Services
Leak Sealing
Multi-Task's Leak Sealing division is available as a day-to-day maintenance resource as well as a 24/7 emergency service that provides a solution when a system leak cannot be isolated, or is creating a hazard that could result in an unscheduled plant outage or shutdown.
Leak sealing can eliminate leaks on many different process systems such as steam, boiler feed water, hydrocarbon, chemical and acids ranging  from negative to 1800 F at pressures up to 4000 psi or higher.
Multi-Task's Leak Repair Designs are professionally engineered and submitted with all relevant paperwork to the provincial boiler pressure safety authority for registration.
Our Leak Sealing Service can provide a repair solution for leaks on a wide range of piping configurations and components.
Multi-Task is the ideal choice for petrochemical and chemical plants, power plants, steel mills, cellulose and paper mills, waste treatment plants, and steam processing plants.
---
COMPOSITE PIPE REPAIR
Multi-Task understands that Composite Repairs are a cost effective and reliable solution to rehabilitate the integrity of piping systems, vessels, tanks, structural beams, and columns.
Our Multi-Task team engineers design each Composite Repair for the specific intended application.
Composite Repairs [wraps] will provide extended life of the component and can be applied to a wide range of piping configurations.
The benefits of using a composite repair include:
No need to shut down systems (In most cases)

No need to drain down and re-fill an entire system

No hot work required

Can be installed in a relatively short amount of time

Provides longevity to the component

Allows the piping system to run at maximum operating pressure
---
LINE FREEZING
Multi-Task knows that Line Freezing is a safe and cost-effective method of providing an isolation point to a piping system without the need to drain or refill an entire system.
Our procedure creates an isolation by using freeze plug technology. It is established by introducing liquid nitrogen into a freeze jacket causing the product to freeze in the pipe thus create an ice plug.
Freeze plugs:
Used when conventional isolations are not available

Used for pipeline isolation for maintenance as well as leak locating

Thaw when maintenance activities are complete as the system returns to normal operation

Can be applied to pie sizes ranging from 1/2″ to 42″

Cause no physical change in the structural integrity of the applied areas

Do not require fittings to be welded to the pipe

Can be installed in tight access areas

Reduce the time and cost of draining and refilling systems.
Compared to conventional repair methods, Line Freezing is safe, cost effective, and time saving.
---
PIPE CRIMPING
Pipe Crimping is another isolation technique Multi-Task offers. A hydraulic method of pinching or squeezing a pipe closed, Pipe Crimping provides isolation in the event of an uncontrolled release caused by a system rupture.
The crimping process is achieved by installing the equipment on the pipe in the determined location(s). The crimp blocks are then brought together by using a hydraulic ram.
Our crimping equipment uses stop rings that:
Are designed for each size and schedule of pipe

Prevent blockages from travelling and eliminate risk of pipe shear
---
Labou
r Services
Multi-Task Industrial Ltd.

prides itself in having a skilled labour force that is dedicated to the highest level of safety possible while maintaining an unsurpassed quality of workmanship within tight timelines.  Our team can provide:
Manual decoking and chipping services

Manwatch

Sparkwatch

General Ground Services

General Tower Services

Confined Space Entry

Gas Monitoring

Mobile Equipment Operators

Class 1 Drivers

Other services as required
---
Specialty Services
Thermal Imaging

  Infrared thermography, thermal imaging, and thermal video are examples of infrared imaging science. Thermographic cameras usually detect radiation in the mid to near-infrared range of the electromagnetic spectrum and produce images of that radiation, called thermograms.
Aerial Platform
  Inspections, air quality monitoring, leak detection, thermal imaging. Dual cameras, visible spectrum and infrared with powerful floodlights and hybrid imaging. Long range and flight times. Very small footprint for entry into small spaces even with obstacle cage installed.
Remote Visual Inspection
 or Remote Digital Video Inspection, also known as RVI or RDVI, is a form of visual inspection which uses visual aids including video technology to allow an inspector to look at objects and materials from a distance because the objects are inaccessible or are in dangerous environments 
Crawler Camera up to 1300'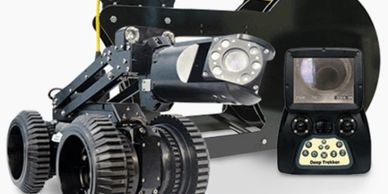 Typically used for long horizontal runs or inside vessels where a self-propelled, steerable camera carrier is required. Some clients prefer that we use this camera system even for short, normal access inspections.
3D Scanning
  Technology for creating high-precision 3D models of real-world objects. It works like this: a 3D scanner takes multiple snapshots of an object. The shots are then fused into a 3D model, an exact three-dimensional copy of the object, which you can rotate and view from different angles on your computer.
Wireless Thermal & Visible Spectrum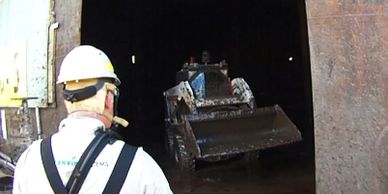 The Wireless Pan/Tilt/Zoom Thermal and Visible Spectrum Camera mounts to vehicles for wide area leak/plume detection. Provides operator "Night vision" for remotely operated equipment (demolition robots, skid steers etc.) keeping the operator outside of the hazardous workspace.
---
Fireproofing
At Multi-Task, we understand the importance of rendering your facility as fire resistant. Our Fireproofing Service provides non-traditional methods that ensure the highest quality application with assuring durability.
Multi-Task specializes in the application of FP250 Cold Fusion Concrete (CFC), the first geopolymer concrete fireproofing. CFC is free of caustic soda and portland cement. The cement utilized in FP250 is of high quality and is resistant to most synthetic and natural acids, chlorides and sulfates. Some environmentally friendly properties of CFC:
Contains fly ash; waste material from coal combustion power generation

Contains granulated ground blast furnace slag; a waste material from steel production

Contains various proprietary products including:

Shrinkage compensator

Alkali-resistant glass fibres

Water reducers

Set time retarder (sodium tetraborate) that enhances the penetrating ability of the sodium silicate
Properties of Multi-Task's spray applied fireproofing:
Maintains high compressive strength ranging from 2500 to 4000 psi

Bonds chemically to steel without lath

Exhibits extremely elevated corrosion inhibition

Resistant to high chemical exposure degradation

High temperature resistance

Surface – up to 149°C

Operation – up to 538°C
CFC does not require sandblasting or priming, only surface preparation. This minimizes man hours and reduces application completion time. Multi-Task's one-pass application penetrates and protects the steel through an electro-chemical bond process.
---
Grit Blasting
At Multi-Task, we understand that hazard identification and mitigation are vital to a successful project. Our equipment and methods are engineered to eliminate potential hazards that would impact our team and your facility.
Multi-Task's Exchanger Tube Grit- Blasting System is a purpose-built solution to the inherent problems encountered when cleaning heat exchanger tubes with conventional grit blasting methods. Multi-Task's Grit- Blasting System is capable of servicing exchanger tubes ranging from 0.5″ to 36″ diameter.
Our unique system provides fast and effective cleaning that produces an ideal finish for NDE inspections as well as a noticable increase in the heat exchanger's overall efficiency through restoration of the tube bundle's thermal transfer ability.
Ramp Up: Allows for gradual addition of abrasive into the air stream to eliminate damage.

Ramp Down: Gradually reduces the flow of abrasive to reduce dwell time on a single spot.

Purge: Stops the flow of abrasive while maintaining full air flow.
Inert, highly frangible blast media ensures damage-free cleaning that is also  environmentally friendly, as it contains no free silicates.
---
Insulation Services
Multi-Task provides industrial insulation application, removal, and repair for construction projects, maintenance services and turnarounds in the following areas:
Module Facilities

Petro Chemical Plants

Pulp and Paper Mills

Midstream Projects

Pipelines

Conventional Oil and Gas Sites

SAGD Sites

Commercial Projects.
At Multi-Task, we are continuously researching better products and application processes to improve the thermal protection of your facility through our supply partners. This includes the application of thermal and acoustical insulation products such as mineral wool, foam glass, styrofoam, and calcium silicate. We can provide a range of insulation services from estimating through to project management and installation.
Our industrial insulation applications can be applied to:
Hot and Cold Piping

Tanks and Vessels

Boilers

Valves

Flanges

Ducting

Exhaust

Heat Exchangers

Utilidor Panels.
Multi-Task provides full tank insulation services including custom manufactured insulated panels and removable covers.
---
Machining
Machining services include flange refacing, portable drilling and cold cutting with available equipment to address any pipe or flange size that may require servicing. Full quality control documentation with pre and post runout reports are supplied to Asset Integrity including account of all altered flange dimensions.
Our machinists are highly skilled qualified tradesman who take pride in their workmanship to provide the best finished product possible.
Multi-Task will provide on-call, the equipment and technology required to support the reliability of your facility with our highly trained team members.
Composite crew machinists who will be available for any machining needs.

Technicians on site to assist Asset Integrity with documentation necessary to expedite and complete specified work scopes.

All machining tools required for machining up to 40" flanges, larger equipment can be expedited to site as needed.

Additional provided services include cold cutting and hydro testing services.

Technicians competent in planning and providing effective solutions.